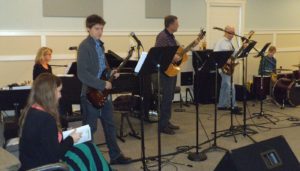 Worship
We worship every Sunday at 10:30 am in person. We have a nursery for children ages 0-3 and children's church for children ages 4-7.
We at New Hope enjoy meeting together to worship our Creator and Redeemer. In worship, God's people adore him, bring him thanks, confess sins, reaffirm their faith, ask for his help, and receive the blessing of his presence. Through the preaching of the gospel, God announces his saving acts and calls people to believing and obedient response to his Word.
The worship at New Hope combines a traditional format with a fresh, new praise and worship experience. That musical worship experience incorporates the use of modern, biblically sound worship songs, traditional hymns and occasionally, Psalm-singing. The worship teams strive to use a variety of instruments (piano, guitars, drums, stringed instruments, etc.) as they lead the congregation in worship. From the written "Reflection" in the bulletin, to the closing song, there is an intentional coordination of each part of the service to lead one toward a personal encounter with the One True Living God.
Several members and previous members have written original music that is sometimes played and sung during the worship service. Here are some of the songs: