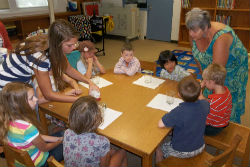 New Hope Church offers a children's church program every Sunday morning that is designed to meet the needs of children aged four to eight. For these children, New Hope offers an age-appropriate program in which we seek to present the children with the Word of God in a way that will help them understand, love, trust in, and treasure the truth of the greatness of God.
Church members volunteer on a rotating basis (4 times a year) to teach in the children's church program. At least one adult and one other volunteer work with the children each week. Children who attend children's church are dismissed from the service right before the sermon begins and return during the closing hymn. It is our desire that through this ministry we may help the children that we serve learn to apply Biblical truth to their own young lives.
New Hope recognizes that many people prefer to keep their children in the main service, and offers the children's church program as an option available at the discretion of the parents.