About Our Church
New Hope Orthodox Presbyterian Church is a grace and gospel-centered fellowship in Frederick, MD which exists to magnify Christ in the areas of worship, fellowship, and outreach.
New Hope Seeks to magnify Jesus Christ by the following:
preaching and teaching the gospel in all its lavish grace. We want to reflect our strong heritage of and commitment to reformed, biblical theology in our worship through the liturgy, preaching, singing, and teaching, emphasizing God's grace and the authority of Scripture.
reflecting his love and grace in our community. We want to lovingly engage newcomers, grow believers to spiritual maturity, and recognize and empower member's gifts in service to one another and the community.
sharing the great news of salvation locally and abroad. We want to continue to grow in this by creatively ministering to the people in and around Western Maryland, supporting the work of domestic and foreign missions, and continuing to exercise all of God's gifts to the best of our ability.
Let us exalt Christ together! Join us as we worship, grow, and serve together to the glory of our Triune God.

Our Pastor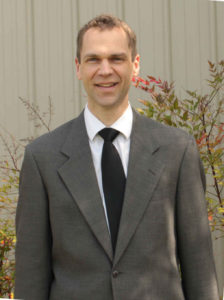 Hi! I'm Francis VanDelden, the pastor at New Hope. I hope you've enjoyed perusing our website, and invite you to meet us in person. Here's a brief history of our family:
My wife Laura and I hail from Hamilton, Ontario (Canada). We met in our church youth group, although nothing happened until years later (I'm "a little" older than her -but she's wiser). I completed my undergraduate studies in Classics at McMaster University in 1995. While operating a fish & chip restaurant franchise from 1997-2002, I got to serve as a chaplain at a children's summer camp. God used this chaplaincy role to call me into the ministry, so I enrolled at Westminster Seminary California.
After I graduated in May 2005 with a Masters of Divinity, Laura and I got married. 🙂 We moved to Grand Rapids, MI, to begin serving as the associate pastor at Harvest OPC. We spent five and a half years there, and absolutely loved it -rich in grace, the gospel, and a lovely church family. During that time our house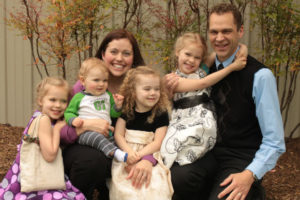 was divided – we were given three American daughters: twins Samantha Joy and Emma Grace (2007) and Jessie-Lynn Hope (2010). In July of 2012 Levi Nathaniel was added to the family and in May of 2014 Micah John! What a privilege!
Early in 2011 the Lord in his wisdom called us to serve at New Hope. New Hope has quickly become a dear home to us, reminding us of Harvest in its love for the gospel and for one another. We look forward to exalting and growing in Christ here in Frederick, and invite you to join us.